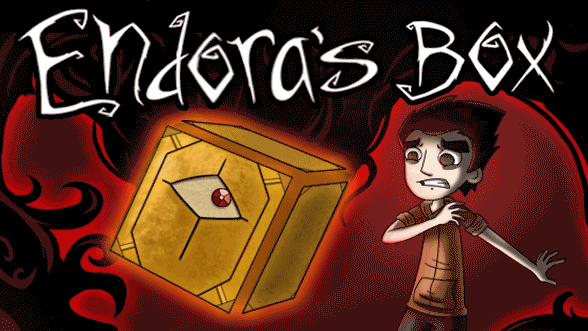 Endoras Box
A downloadable game for Windows
Premise:

Endora's Box is a sidescrolling, point and click inspired adventure game where you must solve dangerous puzzles, make questionable new friends, and find a way to escape before you're lost in chaos forever.
Story:
Long ago, a secret organization named Pandora discovered a box filled with powerful chaos. In their haste to uncover its secrets and control its power, they reverse engineered their own box by siphoning out the magic and chaos. They created something new; Endora's Box. Rather than unleashing the chaos when opened, the subjects who open Endora's Box are absorbed inside where their souls are doomed to wander in an eternal void, or be corrupted by its power.
Features:
◘ Amazing bread parties
◘ Cooking lessons?
◘ Off the cuff one liners
◘ Lonely, needy computers
◘ Who let these ducks in?
◘ Absolutely no secrets at all... We swear. don't tell anyone. Shhh
◘ Horde a massive collection of up to five items at a time!
◘ Detailed and amazing level art!
◘ These ducks are driving me crazy
◘ Find more secrets. DID YOU TELL SOMEBODY?! WHO? TELL ME!
◘ Have meaningful conversations with no-one
Developers:
Scott Fredley: Soon to graduate college with a degree in Design and Computer Science, he's been pushing the game forward over the past two years when he has time off from full time classes and a part time job. Scott built Endora's Box in GameMaker Studio, but coded all of its systems from the ground up. His favorite part of working on the game is designing puzzles and the themes for the levels.

Nichole Fredley: The art technician, in fancy speak, who makes the game look its best. She graduated Vanarts in 2012 and is equipped with the knowledge of animation and storytelling. Starting out as a writer at age five, she now enjoys any medium that lets her tell fantastical stories. Endora's Box is the culmination of her love of strange humor, interesting characters, and stories full of mystery and whimsy.
Price:
We see this version as a short demo of a larger concept we have, so we made it free! However, any money you donate will go to coffee and working towards a complete version of the game. It might also probably pay for therapy for when we try to make a MAC port.
How you can help:
We've been Greenlit on Steam! Our next step is to launch a Kickstarter campaign to fund the rest of development. We'll let you know when it drops. In the mean time, go check out our Greenlight page and tell your friends about this cool game you found!
Contact:
Send us an email at EndorasBoxGame@gmail.com if you enjoyed the game, want to know more about it, or maybe want to help work on it's future versions!
You can also follow us on Twitter or Facebook, and keep updated on the game's development.
Feel free to post your experience on our forum, also please paste any error codes you find here. We love to see gameplay videos!
Download
Click download now to get access to the following files: